This is a reprint of a post from Synegys.com.
Mobile health apps and how it drives Big Data can revolutionize the healthcare industry as we know it. In fact, McKinsey reported that Big Data (data sets that meet five attributes: volume, variety, velocity, veracity and value) adoption can reduce US healthcare costs by $300 billion to $450 billion.1 A major portion of this data is created by mobile devices as a function of smartphone penetration, consumer use of mobile apps and the data created by the apps themselves or other services working in the background (e.g. mobile sensors, GPS-enabled trackers, etc.).
To unlock the potential of mobile, providers and payers need to first understand patients' digital preferences in both channel and service. Contrary to popular belief, a McKinsey global study2 showed that it wasn't important to have a comprehensive platform with offerings. Highly innovative, fancy mobile health apps and wearables were found to be less important to people than simple, straightforward mobile health tools. People in Germany, Singapore and the UK – three different countries with three different health systems – cite finding and scheduling appointments with the right specialist and support for repetitive tasks like appointment and medication reminders to be most desired.
By sufficiently addressing what people want will the healthcare industry be able to realize the savings depicted in the figure below.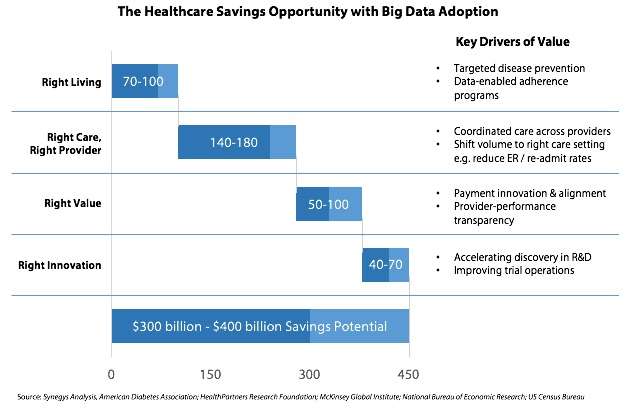 How Mobile Health Apps Unlock Value
Right Living: Patients take an active role in own treatment.
Addressing Chronic Diseases: Mobile monitoring solutions showed a 15%-20% reduction in hospital days and 30% fewer ER visits. This could bring $2,000 – $3,000 per year in savings per patient.3 
Medication Adherence: An estimated one-third to one-half of all patients in the U.S. do not take their medications as prescribed by their doctors. This contributes to a startling 69% of medication-related hospital admissions that can be traced back to poor adherence rates.4 The U.S.' nonpartisan Congressional Budget Office (CBO) acknowledged the link between the use of prescription medicine and spending on other healthcare services – a 1 percent increase in the number of prescriptions filled by beneficiaries would reduce Medicare's spending on medical services by roughly 0.2 percent.5 
From appointment and medication reminders to promoting prescription refills, Synegys' mComply solution for clinical trials and mHSM for general healthcare can be used to promote medication adherence and compliance. Not only are there basic reminder (medication, appointment, prescription refill, etc.) features, but the health apps are coupled with enhanced levels of functionality of user engagement. For example, diary entries can be configured with behaviour intervention and escalation protocols. It has been found that using a combination of tailored interventions such as patient education, patient self-monitoring of specialized care and stimuli to take medications have the greatest potential for improving adherence.6
Right Care / Right Provider: Patients receive timely, appropriate treatment available by the best matched providers available.
Reducing Preventable Re-admissions: A Mayo Clinic study involving mobile monitoring applications for cardiac rehabilitation patients found that recording blood pressure and weight resulted in a a 40% decrease of patient re-admission to  hospitals within a three month period.7
Reducing ER visits: A study found that patients who received help from their providers such that they could share in decision making saw 12.5 percent fewer hospital admissions and 5.3 percent lower healthcare costs.8
Synegys' hospital app can coordinate care across providers and help direct patients to the right provider who can deliver the best outcome. This hospital app can be used to schedule appointments; show nearby medical facilities and providers, their hours of operation, waiting times and directions to get there; educate patients of care options and self-assessment amongst other features.
Right Value: Providers and payers enhance healthcare value while preserving or improving its quality.
Implicit with this value pathway is the use of mobile apps to support the monitoring and the gathering of patient recorded outcomes. For example, one can ensure the cost-effectiveness of care by linking provider reimbursement to patient outcomes. 
Right Innovation: The identification of new therapies and approaches to delivering care by advancing medicine and boosting R&D productivity.
Improving Clinical Trials: Improve retention rates in clinical trials, improve compliance with study protocols and improve adherence to therapy. The lower cost and higher efficiency makes Synegys' mComply solution, a suite of patient engagement tools, a good option for clinical research sites looking to enhance their patient recruitment and retention strategy.
Patient engagement initiatives using health apps have led to reductions in hospital visits, decreased morbidity and mortality, and improvements in treatment adherence and quality of life. Engaged patients have better health outcomes. Although an overarching goal of patient engagement is to decrease cost, we do not have to sacrifice quality care.